The Fairbank Corp
The Fairbank Corporation was founded by Mr. Miles Fairbank in 1949. By the year 1953 his son Jim Fairbank came to Puerto Rico to help his father with the company. By those early years the company made their own chemicals and represented various companies with electroplating products.
The Fairbank Corporation was solid in the chemical and janitorial market. In 1997 we were on the top 300 locally owned companies in Puerto Rico with revenues of 12 millions. At that time we have exclusive lines in Puerto Rico. At Commissions Department: Oxy Chemical, Oxy Durez, Clariant Chemical, Kuehne Chemical and others. At Jan/San Department: Spartan Chemical, Wausau Paper, Gojo and Clarke.
The years passed and The Fairbank Corporation ended with the janitorial division only because all of the industries who used chemicals products went out of Puerto Rico. Even though there are companies that we still serve.
The Jan/San Department lines that we still represent are one of the best in the United States and Puerto Rico. We have more than 60 years doing business. In 2006 Mr. Jim Fairbank decided to retire and sold the company to Isabel A. Roman.
It's 2014 and the company is stable, renewing and giving the best service and quality products that for years we have given to our clients in Puerto Rico.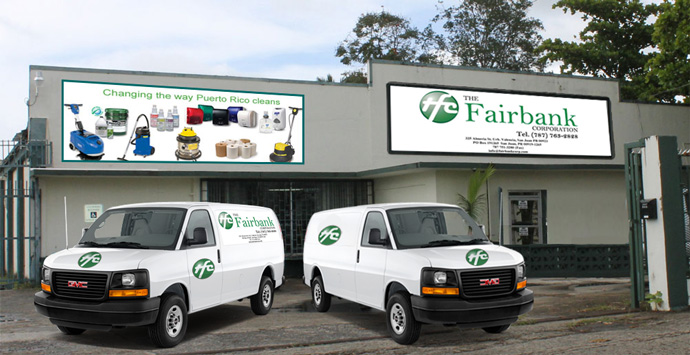 ---
Industrial floor scrubber & Floor cleaning machine service & repair.
Fairbank Corporation offers emergency onsite commercial and industrial floor repairs. We always do our best to offer same-day service on equipment repairs.
We maintain and repair all our equipment in house with a fully trained and experience Service Staff. We pick up and deliver equipment throughout Puerto Rico and also repair on site.